Handwoven Scarves, Shawls, Throws, and Baby Blankets
Handweaving is my new passion. From selecting beautiful hand painted yarns lovingly dyed by other fiber artists to finishing the fringe, every step of the process pleases me. It all started innocently enough - someone mentioned that the local weaving teacher was going to stop teaching, since he'd hit his 89th birthday! So I took a series of 8 classes, and I was hooked.
I like working with a broad range of materials, so I'm able to offer a wide range of handwoven scarves, shawls, and throws. Some of my scarves that are thick and warm and others are lightweight and more versatile. I weave scarves, shawls, and throws that are deep and dusky colors and others that are bright and cheery; scarves that are long enough to wrap around your neck several times, and scarves that are just the right length for a single drape around your suit jacket neckline. My handwoven shawls and throws offer amazing luxury, warmth, comfort, and beauty.
Machines can definitely weave more quickly, but they can't match the care I put into every step of my handwoven scarves. When you wrap that scarf around your neck, or wrap your baby in that handmade baby blanket, that care makes a big difference, and its one you deserve.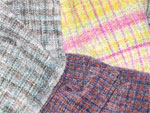 Rayon Chenille
Handwoven Scarves
Rich & soft, look great while you keep warm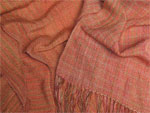 Egyptian Cotton
Handwoven Scarves
Luxuriously soft, smooth, and rich to grace every outfit in high style
About Handweaving
Handweaving is an ancient art. I've seen conflicting reports of the oldest evidence of weaving from 3,000 to 8,000 years old. I don't know which is right, but hey, what's 5,000 years among friends?
Despite its deceptively simple-looking end result, handweaving is a lengthy process, with many steps before I can actually sit in front of my loom and weave. In fact, much more time is spent getting the yarn onto the loom than is actually spent weaving. It's a good thing I like all the steps!
Visit my About Handweaving page to get more information and see me at work.

Roycroft Renaissance Artisan