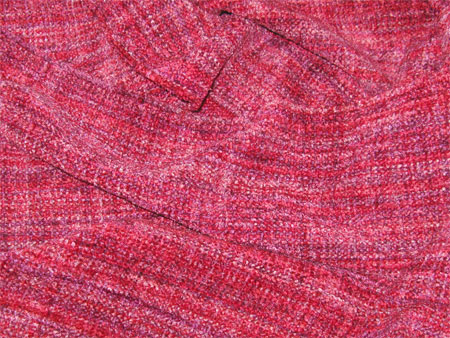 Handwoven Scarves Rayon Chenille
Poinsettia
This hand painted yarn is an amazing color. Looked at closely, there are at least six shades of red: undertones, mid-range, and highlights. They all combine to provide a beautiful, subtle red for this handmade scarf. This handwoven scarf is a luxurious accessory that drapes beautifully every time it's worn. And it's so soft it feels like silk around your neck. The luster of this lovely rayon chenille scarf looks great whether you wear it with navy and other dark colors, with your winter whites, or with other colors for a bolder look.
This handwoven chenille scarf is 8" wide and 70" long, plus 3" of double-twisted fringe, (all measurements approximate). You decide how to wear it - the keyhole wrap (shown), a double loop around your neck, or a simple long drape.
For best results, please hand wash and dry flat.