Watch for more
handmade baby blankets or contact me to order a baby blanket that's handwoven just for you.
Here's another style of handwoven baby blanket you can order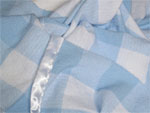 Contact me to place your order for one of these blankets, or another blanket in the color, fabric, and size of your choice.

Roycroft Renaissance Artisan
Handwoven Baby Blankets
Babies. They smell great, they feel great, they're cute as can be (especially if they're related to you). And they deserve all the love, care, and warmth we can give them. A handwoven baby blanket is a beautiful way to express your love for that special infant in your life. It also makes a great shower gift that expresses your taste and style. A handmade baby blanket gives the little one hugs for you even when you're not there. It becomes a literal security blanket for baby.
My handwoven baby blankets are very well made. They will not only last through toddlerhood, they're likely to be the blankie that's cuddled at nap time in day care. I know my daughter had to have her very special security blanket at bedtime well past kindergarten to make the evening go smoothly.
I don't usually have a large stock of my handmade baby blankets, so feel free to order one in either carriage size (about 24" x 36") or crib size (about 36" x 48") in the colors and fabric of your choice.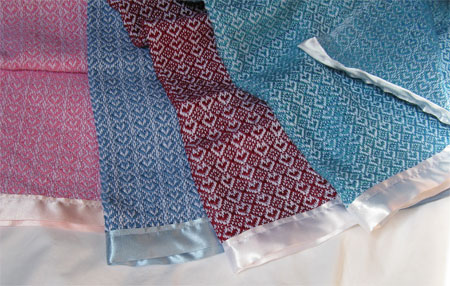 Everybody ♥ Baby
Handwoven Cotton Baby Blanket
Covered with hearts, this little baby blanket says "I love you" every time your special little one is wrapped in it. This design is woven right into the fabric, with the hearts looking a little bit different on the front and back of the blanket. You can see the variations in the photo - the pink and blue show one side, the cranberry and aqua the other.
These baby blankets were handwoven from 100% cotton, so they're very easy care - just toss them in the washer and dryer. Or be more eco-friendly and let the sun and wind dry the blanket on the line.
This Second Wind Weaving design is just one indication of the attention to detail and quality that this handmade baby blanket received. It will easily carry your little one many years past infancy.
Each of these handwoven baby blankets is 27" x 36". They are all finished with satin binding for that smooth feel on baby's face. The pink baby blanket has a pale pink binding, the blue blanket a pale blue binding. The cranberry and aqua baby blankets have white bindings.
Specify your color preference when you order. Currently out of stock. contact me for a custom woven baby blanket.
Materials for Handmade Baby Blankets
Babies cover their clothing and bedding with drool, spit up, pee, and poop, requiring frequent washing of pretty much everything they come into contact with. It's therefore critical that baby blankets are made with materials that can stand up to repeated machine washings and dryings.
My handwoven baby blankets meet this criteria. Whether made from cotton, acrylic, washable wool, or blends, you can launder them without worry. They are truly security blankets for both baby and mom.
Learn more about the process I use to make handwoven baby blankets on my blog.
I will also do custom weaving for baby wraps, making it easy to cuddle your little one. All my baby wraps are woven from 100% cotton - you'll choose the specific size & color.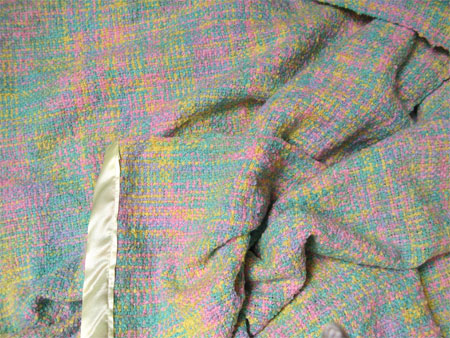 Variegated Cotton Flannel
Handwoven Baby Blanket
This handwoven baby blanket is ideal in just about every way. With blue, green, pink, and yellow, there's no worry about whether the little one will be a boy or a girl. It's sufficiently well made to make a great hand-me-down, if you can convince baby #1 to give it up (which I doubt!).
The cotton flannel fabric is amazingly soft and cuddly, just right up against baby's soft skin. It's also easy to care for - just toss it in the washer & dryer. This hand made blanket will keep baby warm in all but the coldest weather.
This handwoven baby blanket is 25" x 36". Finished with polyester satin binding in your choice of yellow or blue, this piece of sweet softness was made to wrap your special infant with love, care, and beauty.
$70.00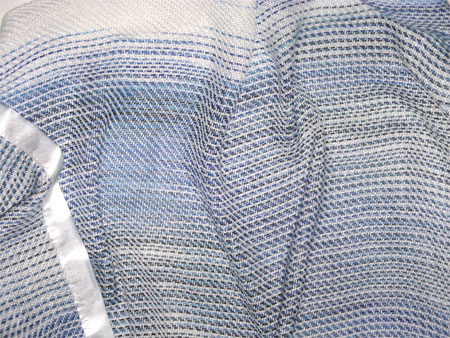 Lullaby Bamboo Cotton
Handwoven Baby Blanket
This handmade baby blanket, handwoven with white cotton and a hand painted bamboo-cotton blend yarn, gives baby a soft, sweet mix of blue and white. The colors mix in ombre fashion, gently moving from dark blue to medium blue to white throughout the blanket. It's perfect for that special baby boy in your life.
This handwoven blanket is 24" x 48" - large enough for your little sweetheart to use from the first day home from the hospital through kindergarten nap time. And like all Second Wind products, it is lovingly handmade to ensure its high quality and attention, so it is sure to last that long. The Lullaby handwoven baby blanket is finished with a smooth polyester satin binding that little ones love to rub on their cheeks.
This bamboo cotton baby blanket is easy care: it can be machine laundered (cool temps) or hand washed and line dried, whichever you prefer. Expect a bit of color bleeding for the first few washes.
$70.00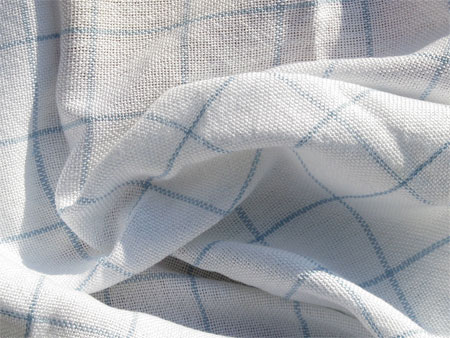 Three Blues Windowpane Cotton
Handwoven Baby Blanket
If you're looking for a lightweight baby blanket, this handwoven is right for you. Hand made from fine gauge cotton with a light sheen, this blanket will get softer with each washing. And washing is easy - machine wash and dry, or save some fossil fuel and hang it outside in the summer sun and breeze.
A clear, clean white forms the background of this little blanket, with thin stripes of light blue in each direction forming the "windowpanes" that give this design its name.
With a simple rolled hem, this handwoven baby blanket is carriage size - 23" x 29". It will wear well for years to come - good enough to be a hand-me-down several times.
Currently out of stock - contact me for a custom handwoven blanket